SOLAR PV INSTALLATION




Domestic
ARD solar pv domestic installers in the North West
Installing a domestic solar electric system (also known as photovoltaics, or PV) will turn your home into your own personal solar power station, generating carbon free electricity to be used by you, or exported back to the national grid, and earning you some money through Feed-in-Tariff payments, energy savings and export payments at the same time.

Under the Feed-in-Tariff, you will be paid 16p for every Kilowatt hour of energy your solar panels generate – whether you use it or not. On top of that, if the energy generated goes unused it will be exported back into the national grid, for which you will be paid a further 4.5p per Kilowatt hour.
To get the most out of a solar system, your roof ideally must have a Southerly facing aspect (although East and West facing roofs will also work) to get as much sunshine as possible during the day.
To find out more about the suitability of your home for PV panels give us a call on 015395 32792
Installation Process
Roof work
We will start by mounting the solar electric panels on your roof. Depending on the number of panels and their fixings, this will normally take two days. We do a range of different systems, but generally all of our systems sit on top of your existing roof covering,and do not interfere with the water tightness and integrity of your roof. We also have lots of experience of roof integrating the systems, and this involves removing the tiles and replacing them with a framed solar electric system. The panel is flashed around and the tiles fit snuggly up against it so once again the water tightness and integrity of your roof is unaffected - but it does give a very neat finish. We use alumium framing systems that are designed specifically for solar electric systems, that are very robust and brilliant to work with. The panels are all joined up electrically on the roof and the cables are fed into your loft space (if you have one).
Electrical works inside your house
Inside your house we will need to install some switches, an inverter and a total generation meter (to count exactly what you system produces). We will also need to run a cable from our system, down to your consumer unit or fuse box. Once all this has been done then the system is wired into you house ring main, and therefore the national grid.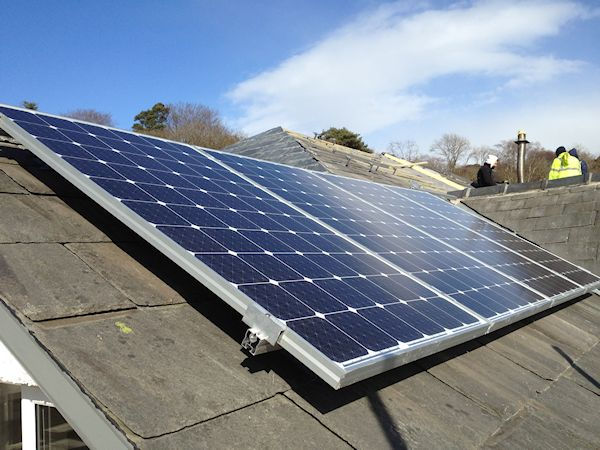 Commisioning it and turning it on!
Once the system is finished and checked then it is then switched on and immediately you start collecting solar energy! The team leader will then talk you through how the system functions, so that you understand what it is doing. Once completed the system requires very little intervention. We often find that people do like to check what is going on with it, and the inverter gives you a display of what the system is generating. It is suprising how satisfying it is when you see that you are collecting free energy.
To find out more give us a call on 015395 32792
Commercial
ARD commercial solar pv installers in the North West.
Many commercial developers are now looking to solar to provide a low maintenance financially beneficial solution to reducing a buildings carbon emissions. Whether its on a new or existing building ARD can design and install a system that will bring huge benefits to the occupants.
ARD will work with your energy assessor and sustainability officers to ensure that the system designed meets your emissions targets or meets the required level of the Code for Sustainable Homes.
The Feed-in Tariff provides attractive financial benefits for the owner of the building, generating an income stream for 20 years that safe guards the building against future energy price rises and dramatically reduced electricity bills.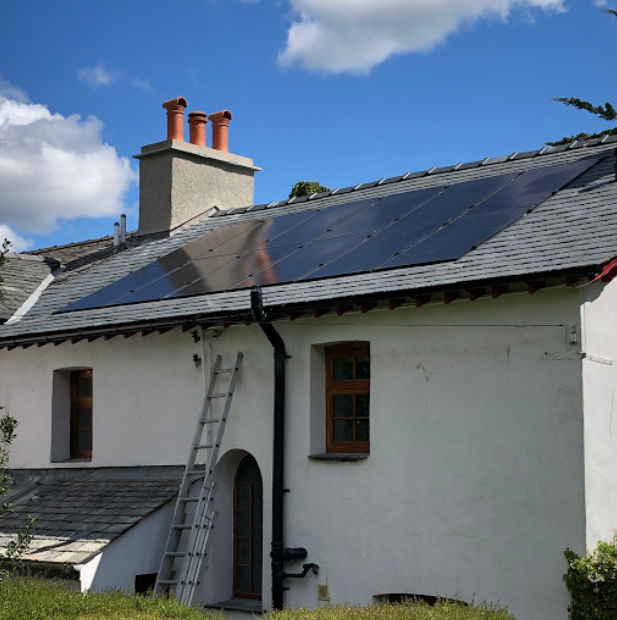 Maintenance
The solar PV panels require little maintenance, are self cleaning and should last on average over 40 years. Research and studies show also that efficiency doesn't reduce much even after 20 years.
Maintenance is optional but we would recommend you get your PV panels serviced at least every 5 years and ensure that your panels remain clean.


For More Information Call ARD Solar PV Cumbria
Telephone: 015395 32792 Mobile: 07798 697880
Email: ard.installations@btinternet.com
Shaws Warehouse, The Gill, Lindale, Grange-over-Sands, Cumbria, LA11 6LX